Gujarat Birth Certificate Download | Birth Certificate Gujarat | Get Birth Certificate Online in Gujarat eolakh.gujarat.gov.in Get Birth Certificate Online
: Gujarat government launched eOlakh portal to download birth certificate online, any citizen of Gujarat can apply for birth certificate online through this portal. https://eolakh.gujarat.gov.in/ , the department is registering births that take place in interior areas.
Birth Certificate Online
Jurisdiction of Gujarat and issue certificates to applicant. Those who want to download or obtain copy of birth certificate online follow the below procedure. Now Gujarat government has made it easy to work all services online, no need to visit any zone office for birth certificate.
The first copy is given free of cost to the applicant in the concerned ward office. A citizen can get more certified laminated computerized copies from any City Civic Center after paying Rs.5. per copy. You must register your child's birth within 21 days to 30 days.
Gujarat birth certificate online download Now a
days it is easy to use all government services and without visiting any office, because all services work online, you know using basic internet and then using all government services is easy. This certificate does not require any signature. It is allowed everywhere in Gujarat.
How to download birth certificate online in Gujarat?
If you or your child's birth certificate is lost and you wish to apply for a new certificate in Gujarat, please follow the procedure below.
Birth Certificate First need to visit Gujarat Govt official website eolakh https://eolakh.gujarat.gov.in/ After opening the website and click on " Download online certificate eolakh.gujarat.gov.in ".
Now open a new page and scroll down, show download birth box and select birth option. Now enter your details like application number or mobile number and year. If you don't know the application number then select the mobile number option.
After clicking on search data button enter all details and show your name below list and download birth certificate.
Conclusion :
Through this article, we have provided you all the important information regarding how to download birth certificate online in Gujarat. If you are still facing any kind of problem then you comment in the comment box, contact us we will solve your problem.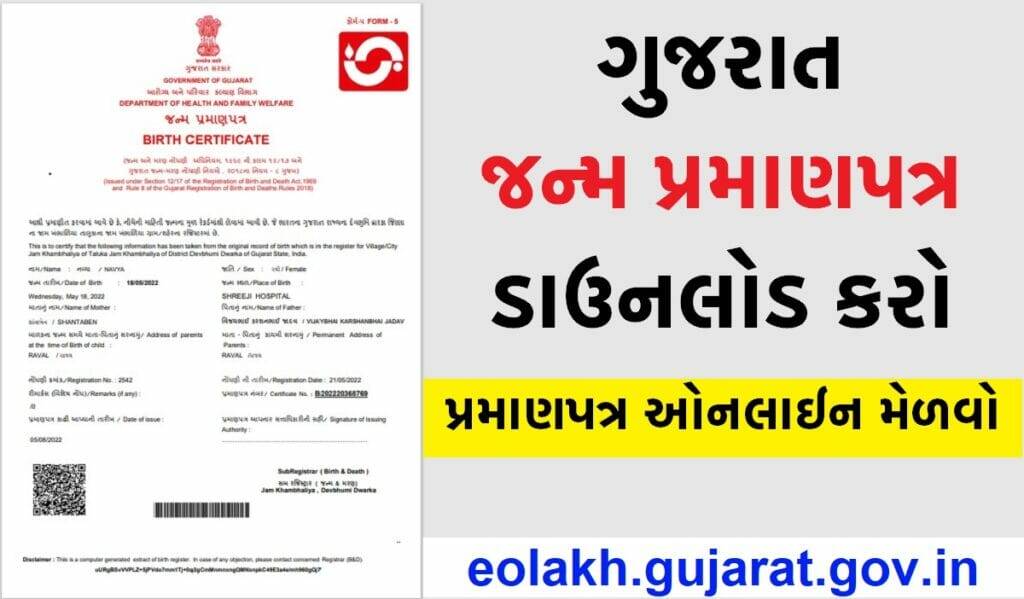 Get Online Birth Certificate @eolakh.gujarat.gov.in 2 Get
Online Birth Certificate FAQ
Which is the website to download birth certificate?
https://eolakh.gujarat.gov.in
What service will be available from eolakh site?
Birth / Death Certificate
Birth certificate service falls under which department?
Department of Health and Welfare, Government of Gujarat